In deze blog vind je overzicht van contemporary boeken die uitkomen in november.
3 november
Instant Karma van Marissa Meyer
In this young adult contemporary romance, a girl is suddenly gifted with the ability to cast instant karma on those around her—both good and bad.
Chronic overachiever Prudence Daniels is always quick to cast judgment on the lazy, rude, and arrogant residents of her coastal town. Her dreams of karmic justice are fulfilled when, after a night out with her friends, she wakes up with the sudden ability to cast instant karma on those around her. Pru giddily makes use of the power, punishing everyone from public vandals to karaoke hecklers, but there is one person on whom her powers consistently backfire: Quint Erickson, her slacker of a lab partner and all-around mortal enemy. Soon, Pru begins to uncover truths about Quint, her peers, and even herself that reveal how thin the line is between virtue and vanity, generosity and greed . . . love and hate.
Mind the Gap, Dash & Lily van Rachel Cohn &David Levithan
For Dash and Lily, it's beginning to look a lot like…distance! Just in time for the series release of Dash & Lily on Netflix comes a new helping of love–this time across the pond as best-selling authors Rachel Cohn and David Levithan send Dash and Lily to England.
Dash and Lily were feeling closer than ever…it's just too bad they're now an ocean apart. After Dash gets accepted to Oxford University and Lily stays in New York to take care of her dogwalking business, the devoted couple are struggling to make a long distance relationship work. And when Dash breaks the news that he won't be coming home for Christmas, Lily makes a decision: if Dash can't come to her, she'll join him in London. It's a perfect romantic gesture…that spins out of Lily's control. Soon Dash and Lily are feeling more of a gap between them, even though they're in the same city. Will London bring them together again–or will it be their undoing?
All I Want for Christmas van Wendy Loggia
This sweet and magical romance about a girl who has just one wish–someone to kiss under the mistletoe–is the perfect holiday escape!

Bailey Briggs is counting down the days to Christmas: she lives for holiday music, baking cookies, going on snowy sleigh rides, and wearing her light-up reindeer ears to work at Winslow's bookstore. But all she really wants this year is the one thing she doesn't have: someone special to kiss under the mistletoe. And she's 100 percent certain that that someone isn't Jacob Marley–athlete, player, and of questionable taste in girlfriends–and that Charlie, the mysterious stranger with the British accent, is the romantic lead of her dreams. Is she right? This will be a December to remember, filled with real-life Christmas magic . . . and, if she stays on Santa's nice list, a wish that just might come true.
4 november
Mijn berichtje aan jou van Luanne Rice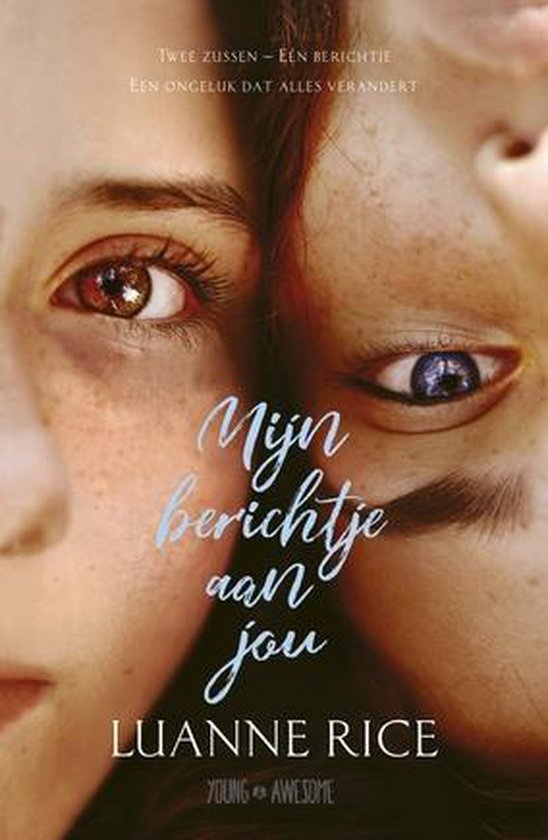 edereen weet dat je niet moet appen terwijl je achter het stuur zit. Maar mijn zusje wacht op me. Mijn duim vliegt over het scherm en ik druk op VERZENDEN. Dan kijk ik op en schreeuw.
Tess krijgt een ernstig auto-ongeluk wanneer ze tijdens het rijden een appje van haar zusje beantwoordt. Iedereen denkt dat ze in coma ligt, maar ze heeft het locked-in syndroom: ze kan alles om zich zien heen zien en horen, maar niemand heeft het in de gaten. Behalve misschien Evi, haar zusje en beste vriendin?
10 november
A Cuban Girl's Guide to Tea and Tomorrow van Laura Taylor Namey
"A Cuban Girl's Guide to Tea and Tomorrow is an absolute delight. Cozier than a hand-knit gray cardigan and richer than Abuela's pastelito recipe, Namey takes you from Miami to Winchester, and leaves your heart belonging to both." —Rachael Lippincott, #1 New York Times bestselling author of Five Feet Apart

Love & Gelato meets Don't Date Rosa Santos in this charming, heartfelt story following a Miami girl who unexpectedly finds love—and herself—in a small English town.

For Lila Reyes, a summer in England was never part of the plan. The plan was 1) take over her abuela's role as head baker at their panadería, 2) move in with her best friend after graduation, and 3) live happily ever after with her boyfriend. But then the Trifecta happened, and everything—including Lila herself—fell apart.

Worried about Lila's mental health, her parents make a new plan for her: Spend three months with family friends in Winchester, England, to relax and reset. But with the lack of sun, a grumpy inn cook, and a small town lacking Miami flavor (both in food and otherwise), what would be a dream trip for some feels more like a nightmare to Lila…until she meets Orion Maxwell.

A teashop clerk with troubles of his own, Orion is determined to help Lila out of her funk, and appoints himself as her personal tour guide. From Winchester's drama-filled music scene to the sweeping English countryside, it isn't long before Lila is not only charmed by Orion, but England itself. Soon a new future is beginning to form in Lila's mind—one that would mean leaving everything she ever planned behind.
Here the Whole Time van Vitor Martins
The charm and humor of To All the Boys I've Loved Before meets Dumplin' in this body-positive YA love story between two boys who must spend 15 days living with each other over school break.
What would you do if you had to spend the next 15 days with your lifelong crush?
Felipe gets it — he's fat. Not chubby. Not big-boned. Fat. And he doesn't need anyone to remind him, which is, of course, what everyone does. That's why he's been waiting for this moment ever since the school year began: school break. Finally, he'll be able to spend some time far away from school and the classmates who tease him incessantly. His plans include catching up on his favorite TV shows, finishing his to-be-read pile, and watching YouTube tutorials on skills he'll never actually put into practice.
But things get a little out of hand when Felipe's mom informs him that Caio, the neighbor kid from apartment 57, will be spending the next 15 days with them while his parents are on vacation. Felipe is distraught because A) he's had a crush on Caio since, well, forever, and B) Felipe has a list of body image insecurities and absolutely NO idea how he's going to entertain his neighbor for two full weeks.
Suddenly, the days ahead of him that once promised rest and relaxation (not to mention some epic Netflix bingeing) end up bringing a whirlwind of feelings, forcing Felipe to dive head-first into every unresolved issue he has had with himself — but maybe, just maybe, he'll manage to win over Caio, too.
Chasing Lucky van Jenn Bennett
Budding photographer Josie Saint-Martin has spent half her life with her single mother, moving from city to city. When they return to her historical New England hometown years later to run the family bookstore, Josie knows it's not forever. Her dreams are on the opposite coast, and she has a plan to get there.

What she doesn't plan for is a run-in with the town bad boy, Lucky Karras. Outsider, rebel…and her former childhood best friend. Lucky makes it clear he wants nothing to do with the newly returned Josie. But everything changes after a disastrous pool party, and a poorly executed act of revenge lands Josie in some big-time trouble—with Lucky unexpectedly taking the blame.

Determined to understand why Lucky was so quick to cover for her, Josie discovers that both of them have changed, and that the good boy she once knew now has a dark sense of humor and a smile that makes her heart race. And maybe, just maybe, he's not quite the brooding bad boy everyone thinks he is…
Love & Olives van Jenna Evans Welch
From the New York Times bestselling author of Love & Gelato comes a Mamma Mia–inspired tale about a teen girl finding romance while trying to connect with her absent father in beautiful Santorini, Greece.

Liv Varanakis doesn't have a lot of fond memories of her father, which makes sense—he fled to Greece when she was only eight. What Liv does remember, though, is their shared love for Greek myths and the lost city of Atlantis. So when Liv suddenly receives a postcard from her father explaining that National Geographic is funding a documentary about his theories on Atlantis—and will she fly out to Greece and help?—Liv jumps at the opportunity.

But when she arrives to gorgeous Santorini, things are a little…awkward. There are so many questions, so many emotions that flood to the surface after seeing her father for the first time in years. And yet Liv doesn't want their past to get in the way of a possible reconciliation. She also definitely doesn't want Theo—her father's charismatic so-called "protégé"—to witness her struggle.

And that means diving into all that Santorini has to offer—the beautiful sunsets, the turquoise water, the hidden caves, and the delicious cuisine. But not everything on the Greek island is as perfect as it seems. Because as Liv slowly begins to discover, her father may not have invited her to Greece for Atlantis, but for something much more important.
The Surprising Power of a Good Dumpling van Wai Chim
An authentic novel about growing up in a migrant Asian family with a mother who is suffering from a debilitating mental illness.
Anna Chiu has her hands full. When she's not looking after her brother and sister or helping out at her father's restaurant, she's taking care of her mother, whose debilitating mental illness keeps her in bed most days. Her father's new delivery boy, Rory, is a welcome distraction and even though she knows that things aren't right at home, she's starting to feel like she could be a normal teen.
But when her mother finally gets out of bed, things go from bad to worse. And as her mother's condition worsens, Anna and her family question everything they understand about themselves and each other.
The Surprising Power of a Good Dumpling is a heart-wrenching, true-to-life exploration through the often neglected crevices of culture, mental illness, and family. Its strong themes are balanced by a beautiful romance making it a feel-good, yet important read.
Rent a Boyfriend van Gloria Chao
To All the Boys I've Loved Before meets The Farewell in this incisive romantic comedy about a college student who hires a fake boyfriend to appease her traditional Taiwanese parents, to disastrous results, from the acclaimed author of American Panda.
Chloe Wang is nervous to introduce her parents to her boyfriend, because the truth is, she hasn't met him yet either. She hired him from Rent for Your 'Rents, a company specializing in providing fake boyfriends trained to impress even the most traditional Asian parents.
Drew Chan's passion is art, but after his parents cut him off for dropping out of college to pursue his dreams, he became a Rent for Your 'Rents employee to keep a roof over his head. Luckily, learning protocols like "Type C parents prefer quiet, kind, zero-PDA gestures" comes naturally to him.
When Chloe rents Drew, the mission is simple: convince her parents fake Drew is worthy of their approval so they'll stop pressuring her to accept a proposal from Hongbo, the wealthiest (and slimiest) young bachelor in their tight-knit Asian American community.
But when Chloe starts to fall for the real Drew—who, unlike his fake persona, is definitely not 'rent-worthy—her carefully curated life begins to unravel. Can she figure out what she wants before she loses everything?
Hoe dan ook van Kara Mcdowell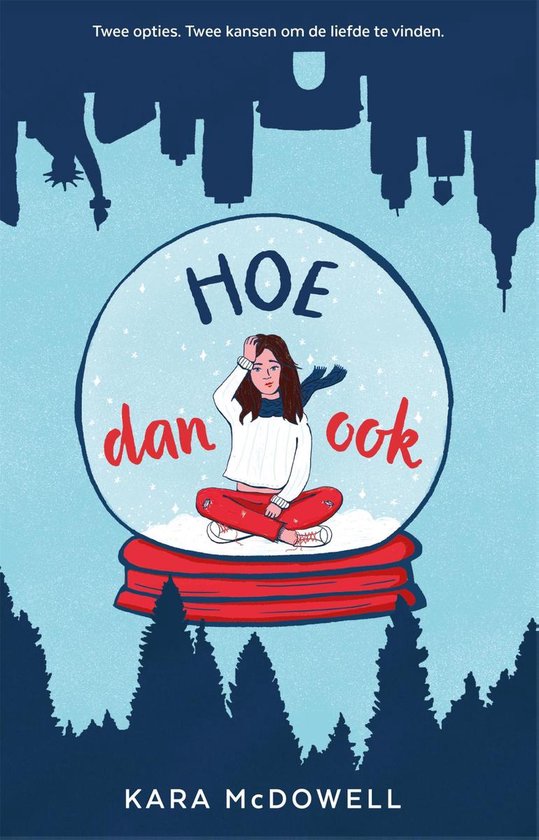 Gemiddeld neemt een mens 35.000 beslissingen per dag. Dat zijn er zo'n 34.999 te veel voor Paige Collins, die voortdurend bang is om de verkeerde keuze te maken en constant getergd wordt door de vraag: 'Wat als…?' Neem nou de keuzevakken op school: moet ze kiezen voor beeldhouwen of toneel? Wat als ze voorbestemd was om een beroemde beeldhouwer te worden, maar haar talent verspilt aan een matige uitvoering van een toneelstuk van Shakespeare? En wat als ze in het beeldhouwlokaal zit en daar een koolmonoxidelek is, waardoor iedereen dood neervalt? (Akelig, maar mogelijk!)
Niet zo gek dus dat Paige verlamd raakt door keuzestress als ze moet kiezen tussen twee last minute opties voor haar kerstvakantie. Moet ze met haar beste vriend (en stiekeme crush) Fitz meegaan naar het romantische vakantiehuisje van zijn familie in de bergen? Of moet ze met haar moeder meegaan naar New York, een stad waar Paige haar hele leven al over droomt?
Op het moment dat Paige bijna ontploft van de keuzestress, grijpt het lot in. Paige glijdt uit op een gladde supermarktvloer en vanaf dat moment leidt ze twee parallelle levens. In het ene vertrekt ze naar New York, een stad waar ze verliefd op wordt… en waar ze valt voor de charmes van haar persoonlijke stadsgids. Het andere leidt naar de bergen waar Paige eindelijk een kans lijkt te hebben bij Fitz… tot haar angsten alles dreigen te verpesten.
Voordat Paige haar happy ending kan beleven, moet ze haar angsten zien te accepteren én overwinnen. En ze zal moeten inzien dat je niet perfect hoeft te zijn om liefde te verdienen.
13 November
Op glas ijs van Sara Biren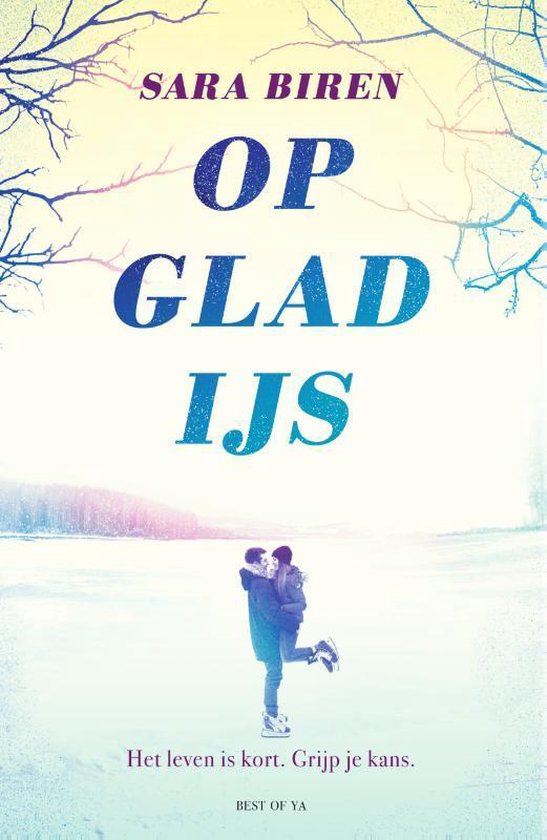 Stoere en hartverwarmende YA-romance oor de fans van 10 blind dates, Royals en de boeken van Sophie Kinsella
Holland Delviss wil niets liever dan bekendstaan om haar talent als hockeyspeler, niet als een hockeyspeler die toevallig een meisje is. Om haar plekje in het jongensteam te behouden, heeft ze twee regels: train harder dan wie dan ook, zelfs als dat om vijf uur 's ochtends is, én val niet te veel op, zelfs als dat betekent dat ze de opmerkingen die ze naar haar hoofd geslingerd krijgt moet negeren.
Wanneer haar team wordt geselecteerd voor HockeyFest, een evenement dat op de televisie wordt uitgezonden, komt Holland toch in de schijnwerpers te staan. (Tot ziens, regel 2!) Niet iedereen is blij met haar nieuwe bekendheid, maar één persoon steunt haar ondanks alles: haar bazige coteamcaptain, Wes. En Wes blijft haar verrassen. Hij blijkt net als zij dol op glamrock uit de jaren tachtig en elke keer als hij haar aanraakt voelt het vreemd elektrisch. Met overal camera's op haar gericht, komt Holland gevaarlijk dicht bij het overtreden van haar derde regel: date nooit, maar dan ook echt nóóit met een teamgenoot.
Op glad ijs is een heerlijke combinatie van romance, sport en muziek mét een feministisch randje. Het perfecte boek voor de koude wintermaanden – of eigenlijk een aanrader voor elk seizoen!
17 November
Super Fake Love Song van David Yoon
From the bestselling author of Frankly in Love comes a contemporary YA rom-com where a case of mistaken identity kicks off a string of (fake) events that just may lead to (real) love.

When Sunny Dae—self-proclaimed total nerd—meets Cirrus Soh, he can't believe how cool and confident she is. So when Cirrus mistakes Sunny's older brother Gray's bedroom—with its electric guitars and rock posters—for Sunny's own, he sort of, kind of, accidentally winds up telling her he's the front man of a rock band.

Before he knows it, Sunny is knee-deep in the lie: He ropes his best friends into his scheme, begging them to form a fake band with him, and starts wearing Gray's rock-and-roll castoffs. But no way can he trick this amazing girl into thinking he's cool, right? Just when Sunny is about to come clean, Cirrus asks to see them play sometime. Gulp.

Now there's only one thing to do: Fake it till you make it.

Sunny goes all in on the lie, and pretty soon, the strangest things start happening. People are noticing him in the hallways, and he's going to football games and parties for the first time. He's feeling more confident in every aspect of his life, and especially with Cirrus, who's started to become not just his dream girl but also the real deal. Sunny is falling in love. He's having fun. He's even becoming a rocker, for real.

But it's only a matter of time before Sunny's house of cards starts tumbling down. As his lies begin to catch up with him, Sunny Dae is forced to wonder whether it was all worth it—and if it's possible to ever truly change.
Gaan jullie boeken kopen van deze lijst? Naar welke boeken kijken jullie uit? Laat het me weten in de reacties of op Instagram.