We zijn alweer oktober. In deze blog vind je een overzicht van alle contemporary boeken die uitkomen deze maand.
6 oktober
One Way or Another van Kara McDowell
The average person makes 35,000 decisions every single day. That's about 34,999 too many for Paige Collins, who lives in debilitating fear of making the wrong choice. The simple act of picking an art elective is enough to send her into a spiral of what-ifs. What if she's destined to be a famous ceramicist but wastes her talent in drama club? What if there's a carbon monoxide leak in the ceramics studio and everyone drops dead? (Grim, but possible!)

That's why when Paige is presented with two last-minute options for Christmas vacation, she's paralyzed by indecision. Should she go with her best friend (and longtime crush) Fitz to his family's romantic mountain cabin? Or should she accompany her mom to New York, a city Paige has spent her whole life dreaming about?

Just when it seems like Paige will crack from the pressure of choosing, fate steps in — in the form of a slippery grocery store floor — and Paige's life splits into two very different parallel paths. One path leads to New York where Paige falls for the city . . . and the charms of her unexpected tour guide. The other leads to the mountains where Paige might finally get her chance with Fitz . . . until her anxiety threatens to ruin everything.

However, before Paige gets her happy ending in either destiny, she'll have to face the truth about her struggle with anxiety — and learn that you don't have to be "perfect" to deserve true love.
Shine van Jessica Jung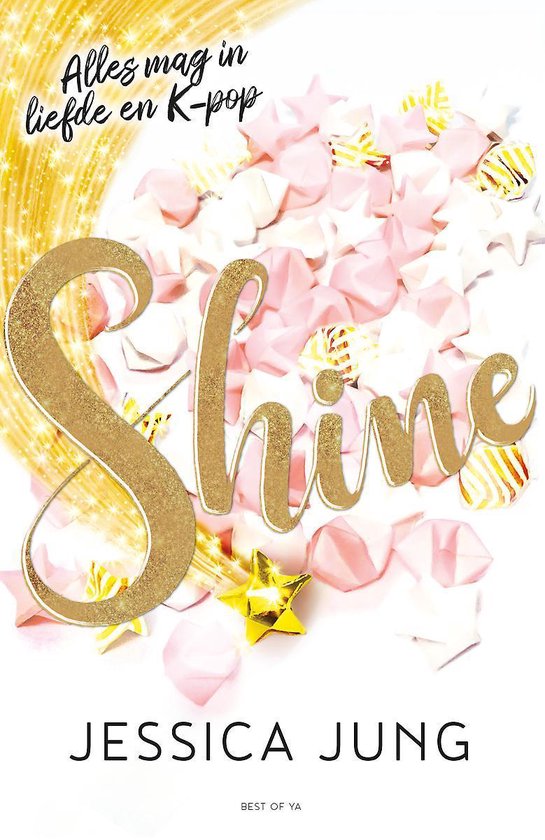 Juicy YA-roman over de ongekend populaire 'perfecte' K-popwereld
Debuut van Jessica Jung, K-poplegende en voormalig zangeres van een van de meest invloedrijke K-popmeidengroepen aller tijden: Girls Generation.
Wat zou jij opgeven om je dromen waar te maken? Voor de zeventienjarige Koreaans-Amerikaanse Rachel Kim is het antwoord op die vraag: bijna alles. Zes jaar geleden werd ze gerekruteerd door een van de grootste K-poplabels van Seoel, dat een aantal van 's werelds populairste sterren heeft voortgebracht. De regels zijn simpel: train 24/7. Wees perfect. Date niet. Makkelijk toch?
Helaas niet. Rachel begint zich af te vragen of ze wel sterk genoeg is om door te kunnen breken en niet gebroken zal worden door een industrie die erop gericht is om mooie meisjes te controleren en te commercialiseren. Vooral wanneer ze gevoelens krijgt voor K-popster Jason Lee. Hij is niet alleen charmant, sexy en belachelijk getalenteerd. Hij is ook de eerste die echt begrijpt hoe graag ze een ster wil worden.
Jessica Jung neemt je mee in de luxe, hypergekleurde en bizarre wereld van K-pop, waar de inzet hoog is en voor één meisje de prijs van succes – en liefde – misschien nog wel hoger is.
The Code for Love and Heartbreak van Jillian Cantor
From bestselling author Jillian Cantor comes a smart, edgy update of Jane Austen's beloved classic Emma.
Emma Woodhouse is a genius at math, but clueless about people. After all, people are unreliable. They let you down—just like Emma's sister, Izzy, did this year, when she moved to California for college. But numbers…those you can count on. (No pun intended.)
Emma's senior year is going to be all about numbers, and seeing how far they can take her. When she and George, her Coding Club co-president, are tasked with brainstorming a new project, The Code for Love is born—a matchmaking app that goes far beyond swiping, using algorithms to calculate compatibility. George disapproves of Emma's idea, accusing her of meddling in people's lives. But all the happy new couples at school are proof that the app works. At least at first.
Emma's code is flawless. So why is it that perfectly matched couples start breaking up, the wrong people keep falling for each other and her own feelings defy any algorithm? Emma thought math could solve everything. But there's nothing more complex—or unpredictable—than love.
Something Happened to Ali Greenleaf van Hayley Krischer
Perfect for fans of Rory Power and Laurie Halse Anderson, this sharp, emotional debut follows two girls as they navigate tumultuous relationships, the effects of trauma, and what empowerment means to them.
Ali Greenleaf and Blythe Jensen couldn't be more different. Ali is sweet, bitingly funny, and just a little naive. Blythe is beautiful, terrifying, and the most popular girl in school. They've never even talked to each other, until a party when Ali decides she'll finally make her move on Sean Nessel, her longtime crush, and the soccer team's superstar. But Sean pushes Ali farther than she wants to go. When she resists–he rapes her.
Blythe sees Ali when she runs from the party, everyone sees her. And Blythe knows something happened with Sean, she knows how he treats girls. Even so, she's his best friend, his confidant. When he begs her to help him, she can't resist.
So Blythe befriends Ali in her attempt to make things right with Sean, bringing Ali into a circle of ruthless popular girls, and sharing her own dark secrets. Despite the betrayal at the heart of their relationship, they see each other, in a way no one ever has before.
In her searing, empowering debut novel, Hayley Krischer tells the story of what happened that night, and how it shaped Ali and Blythe forever. Both girls are survivors in their own ways, and while their experiences are different, and their friendship might not be built to last, it's one that helps each of them find a way forward on their own terms.
12 oktober
Kartonnen Sterren van Seren J. Smedt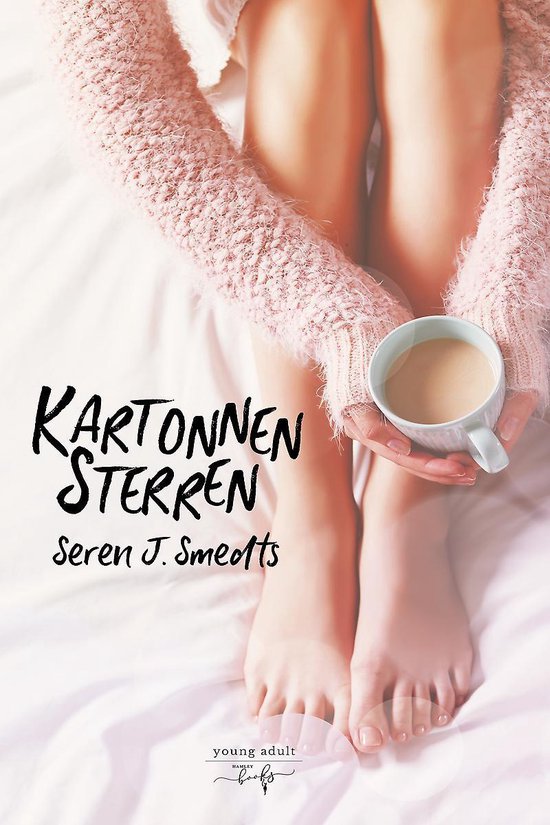 Bij de terugkeer van Livs vader uit Amerika wordt haar leven volledig omgegooid. Hij is immers niet langer meer de man waar ze altijd naar opkeek, waardoor hun vader-dochter relatie compleet de mist in gaat.
Een normaal onbezorgd tienerleven lijkt niet voor haar bestemd te zijn, tot ze Jasper ontmoet. Jasper, die haar hart op korte tijd verovert. Hij laat haar wegdromen onder een hemel van sterren.
Maar niet alle sterren schitteren als kristal. Sommigen zijn zo hard als karton.
13 oktober
This Is All Your Fault van Aminah Mae Safi
Set over the course of one day, Aminah Mae Safi's This Is All Your Fault is a smart and voice-driven YA novel that follows three young women determined to save their indie bookstore.
Rinn Olivera is finally going to tell her longtime crush AJ that she's in love with him.
Daniella Korres writes poetry for her own account, but nobody knows it's her.
Imogen Azar is just trying to make it through the day.
When Rinn, Daniella, and Imogen clock into work at Wild Nights Bookstore on the first day of summer, they're expecting the hours to drift by the way they always do. Instead, they have to deal with the news that the bookstore is closing. Before the day is out, there'll be shaved heads, a diva author, and a very large shipment of Air Jordans to contend with.
And it will take all three of them working together if they have any chance to save Wild Nights Bookstore."
Come On In
This exceptional and powerful anthology explores the joys, heartbreaks and triumphs of immigration, with stories by bestselling and beloved YA authors who are themselves immigrants and the children of immigrants.
WELCOME
From some of the most exciting bestselling and up-and-coming YA authors writing today…journey from Ecuador to New York City and Argentina to Utah, from Australia to Harlem and India to New Jersey, from Fiji, America, Mexico and more… Come On In.
With characters who face random traffic stops, TSA detention, customs anxiety, and the daunting and inspiring journey to new lands, who camp with their extended families, dance at weddings, keep diaries, teach ESL, give up their rooms for displaced family, decide their own answer to the question "where are you from?" and so much more, Come On In illuminates fifteen of the myriad facets of the immigrant experience.
The Truth Project van Dante Medema
Seventeen-year-old Cordelia Koenig was sure of many things going into her last year of high school. For one, she wasn't going to stress over the senior project all her peers were dreading—she'd just use the same find-your-roots genealogy idea that her older sister used for hers. Secondly, she'd put all that time spent not worrying about the project toward getting reacquainted with former best friend and longtime crush Kodiak Jones who, conveniently, gets assigned as Cordelia's partner.
All she has to do is mail in her DNA sample, write about her ancestry results and breeze through the rest of senior year. Done, done and done.
But when Cordelia's GeneQuest results reveal that her father is not the man she thought he was but a stranger who lives thousands of miles away, Cordelia realizes she isn't sure of anything anymore—not the mother who lied, the life she was born into or the girl staring back at her in the mirror.
If your life began with a lie, how can you ever be sure of what's true?
You Know I'm No Good van Jessie Ann Foley
This razor-sharp novel from Printz Honor winner and Morris Award finalist Jessie Ann Foley will appeal to the fans of Rory Power and Mindy McGinnis.
Mia is officially a Troubled Teen – she gets bad grades, drinks too much, and has probably gone too far with too many guys.
But she doesn't realize how out of control she seems until she is taken from her home in the middle of the night and sent away to Red Oak Academy, a therapeutic girls' boarding school in the middle of nowhere. While there, Mia is forced to confront her painful past at the same time she questions why she's at Red Oak. If she were a boy, would her behavior be considered wild enough to get sent away? But what happens when circumstances outside of her control compel Mia to make herself vulnerable enough to be truly seen?
Challenging and thought-provoking, this stunning contemporary YA novel examines the ways society is stacked against teen girls and what one young woman will do to even the odds.
20 oktober
When it's real van Erin Watt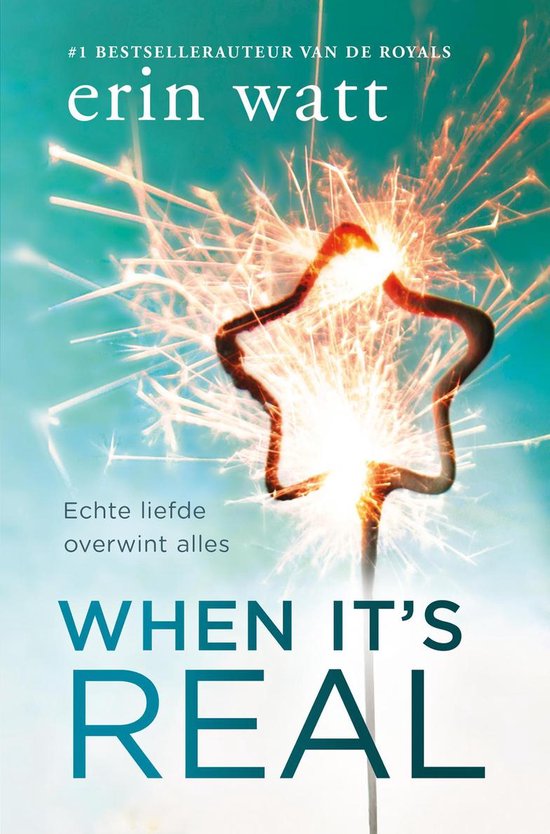 Popster Oakley is hot en heeft miljoenen fans. Meiden staan in de rij voor hem, maar dat geldt niet voor Vaughn. En juist zij moet hem helpen om van zijn badboy-imago af te komen.
When it's real is een onweerstaanbare roman van Erin Watt, bekend van de succesvolle en populaire boekenserie De Royals.
Popster Oakley is hot en heeft miljoenen fans. De paparazzi smullen van zijn escapades. Maar als Oakley nog serieus genomen wil worden in de muziekindustrie, moet hij iets aan zijn imago doen.
Wie kan hem daarbij beter helpen dan de doodgewone Vaughn? Ze hoeft zich alleen maar voor te doen als zijn nieuwe vriendin. Maar Vaughn vindt Oakley maar een arrogante sukkel. Oké, hij is hot, maar denk maar niet dat zij voor hem zal vallen.
My Heart Underwater van Laurel Flores Fantauzzo
After Corazon's mother catches her kissing her older female teacher, Corazon is sent to the Philippines to live with a half brother she barely knows. There she learns more about loss and love than she could have ever imagined.
Corazon Tagubio is an outcast at her Catholic school. She's attending on scholarship, she keeps to herself, and her crush on her teacher Ms. Holden doesn't help anything. At home, Cory's less-than-perfect grades disappoint her mom and dad, who are already working overtime to support her distant half brother in the Philippines.
When an accident leaves her dad comatose, Cory feels like Ms. Holden is the only person who really sees her. But when a crush turns into something more and the secret gets out, Cory is sent to her half brother. She's not prepared to face a stranger in an unfamiliar place, but she begins to discover how the country that shaped her past might also change her future.
This #ownvoices story takes readers on a journey across the world as Cory comes to understand her family, her relationships, and, ultimately, herself.
30 oktober
Wat zou Justyce doen? van Nic Stone
Het verbluffende vervolg op de # 1 New York Times-bestseller Wat zou Martin doen?
In dit langverwachte vervolg op haar bestseller werpt Nic Stone een kritische blik op de gebrekkige praktijken en ideologieën die Afro-Amerikaanse jongens en minderheden in het Amerikaanse rechtsysteem discrimineren.
Vernell LaQuan Banks en Justyce McAllister groeiden allebei op in zuidwest Atlanta, een paar straten van elkaar. Jaren later loopt Justyce door de roemruchte zalen van Yale en zit Quan achter de tralies van een jeugddetentiecentrum.
Door middel van flashbacks en brieven aan Justyce – de hoofdpersoon van Wat zou Martin doen? – krijgt Quans verhaal vorm. Problemen thuis en misverstanden op school leiden tot ontmoetingen met de politie en moeilijke beslissingen. En dan is er een dode agent en een wapen met Quans vingerafdrukken erop. Hoe kan het dat een doodgewone jongen als Quan zomaar verzeild raakt in een moordzaak? Quan weet het zelf ook niet.
Gaan jullie boeken kopen van deze lijst? Naar welke boeken kijken jullie uit? Laat het me weten in de reacties of op Instagram.