Het is bijna augustus dus er komen weer veel nieuwe boeken uit. Hieronder vind je een lijst van contemporary boeken die uitkomen in augustus.
4 augustus
Don't Ask Me Where I'm From van Jennifer De Leon
First-generation American LatinX Liliana Cruz does what it takes to fit in at her new nearly all-white school. But when family secrets spill out and racism at school ramps up, she must decide what she believes in and take a stand.
Liliana Cruz is a hitting a wall—or rather, walls.
There's the wall her mom has put up ever since Liliana's dad left—again.
There's the wall that delineates Liliana's diverse inner-city Boston neighborhood from Westburg, the wealthy—and white—suburban high school she's just been accepted into.
And there's the wall Liliana creates within herself, because to survive at Westburg, she can't just lighten up, she has to whiten up.
So what if she changes her name? So what if she changes the way she talks? So what if she's seeing her neighborhood in a different way? But then light is shed on some hard truths: It isn't that her father doesn't want to come home—he can't…and her whole family is in jeopardy. And when racial tensions at school reach a fever pitch, the walls that divide feel insurmountable.
But a wall isn't always a barrier. It can be a foundation for something better. And Liliana must choose: Use this foundation as a platform to speak her truth, or risk crumbling under its weight.
You Had Me at Hola by Alexis Daria
RITA® Award Winning author Alexis Daria brings readers an unforgettable, hilarious rom-com set in the drama-filled world of telenovelas—perfect for fans of Jane the Virgin and The Kiss Quotient.
Leading Ladies do not end up on tabloid covers.
After a messy public breakup, soap opera darling Jasmine Lin Rodriguez finds her face splashed across the tabloids. When she returns to her hometown of New York City to film the starring role in a bilingual romantic comedy for the number one streaming service in the country, Jasmine figures her new "Leading Lady Plan" should be easy enough to follow—until a casting shake-up pairs her with telenovela hunk Ashton Suárez.
Leading Ladies don't need a man to be happy.
After his last telenovela character was killed off, Ashton is worried his career is dead as well. Joining this new cast as a last-minute addition will give him the chance to show off his acting chops to American audiences and ping the radar of Hollywood casting agents. To make it work, he'll need to generate smoking-hot on-screen chemistry with Jasmine. Easier said than done, especially when a disastrous first impression smothers the embers of whatever sexual heat they might have had.
Leading Ladies do not rebound with their new costars.
With their careers on the line, Jasmine and Ashton agree to rehearse in private. But rehearsal leads to kissing, and kissing leads to a behind-the-scenes romance worthy of a soap opera. While their on-screen performance improves, the media spotlight on Jasmine soon threatens to destroy her new image and expose Ashton's most closely guarded secret.
Bookish and the Beast van Ashley Poston
In the third book in Ashley Poston's Once Upon a Con series, Beauty and the Beast is retold in the beloved Starfield universe.
Rosie Thorne is feeling stuck—on her college application essays, in her small town, and on that mysterious General Sond cosplayer she met at ExcelsiCon. Most of all, she's stuck in her grief over her mother's death. Her only solace was her late mother's library of rare Starfield novels, but even that disappeared when they sold it to pay off hospital bills.
On the other hand, Vance Reigns has been Hollywood royalty for as long as he can remember—with all the privilege and scrutiny that entails. When a tabloid scandal catches up to him, he's forced to hide out somewhere the paparazzi would never expect to find him: Small Town USA. At least there's a library in the house. Too bad he doesn't read.
When Rosie and Vance's paths collide and a rare book is accidentally destroyed, Rosie finds herself working to repay the debt. And while most Starfield superfans would jump at the chance to work in close proximity to the Vance Reigns, Rosie has discovered something about Vance: he's a jerk, and she can't stand him. The feeling is mutual.
But as Vance and Rosie begrudgingly get to know each other, their careful masks come off—and they may just find that there's more risk in shutting each other out than in opening their hearts.
6 augustus
Boy Queen van George Lester
Life's a drag until you try . . .
Robin Cooper's life is falling apart.
While his friends prepare to head off to university, Robin is looking at a pile of rejection letters from drama schools up and down the country, and facing a future without the people he loves the most. Everything seems like it's ending, and Robin is scrabbling to find his feet.
Unsure about what to do next and whether he has the talent to follow his dreams, he and his best friends go and drown their sorrows at a local drag show, where Robin realises there might be a different, more sequinned path for him . . .
With a mother who won't stop talking, a boyfriend who won't acknowledge him and a best friend who is dying to cover him in glitter make up, there's only one thing for Robin to do: bring it to the runway.
Boy Queen by George Lester is a sparkling debut full of big hair, big heels and even bigger hearts
11 augustus
All Our Worst Ideas van Vicky Skinner
When Amy, on her way to becoming valedictorian of her graduating class and getting accepted to her dream school, gets dumped by her long-term boyfriend, she takes a job at a record store to ease the pain. She needs a distraction, badly.
Oliver, Amy's record store co-worker, isn't so sure about Amy—his complete opposite—but what he is sure of is his decision not to go to college. He just can't figure out how to tell his mother.
As they work late-night shifts at the record store, Amy and Oliver become friends and then confidantes and then something more, but when Amy has a hard time letting go of what she thought was her perfect future with her ex, she risks losing the future she didn't even know she wanted with Oliver.
You Were Made For Me van Jenna Guillaume
The day I created a boy started out like any other.
Katie didn't mean to create a boy. A boy like a long-lost Hemsworth brother: six-foot tall with floppy hair and eyes like the sky on a clear summer's day; whose lips taste like cookie-dough and whose skin smells like springtime.
A boy who is completely devoted to Katie.
He was meant to be perfect.
But he was never meant to exist.
18 augustus
Dating Makes Perfect van Pintip Dunn
The Tech sisters don't date in high school. Not because they're not asked. Not because they're not interested. Not even because no one can pronounce their long, Thai last name—hence the shortened, awkward moniker. But simply because they're not allowed.
Until now.
In a move that other Asian American girls know all too well, six months after the older Tech twins got to college, their parents asked, "Why aren't you engaged yet?" The sisters retaliated by vowing that they won't marry for ten (maybe even twenty!) years, not until they've had lots of the dating practice that they didn't get in high school.
In a shocking war on the status quo, her parents now insist that their youngest daughter, Orrawin (aka "Winnie"), must practice fake dating in high school. Under their watchful eyes, of course—and organized based on their favorite rom-coms. 'Cause that won't end in disaster.
The first candidate? The son of their longtime friends, Mat Songsomboon—arrogant, infuriating, and way too good-looking. Winnie's known him since they were toddlers throwing sticky rice balls at each other. And her parents love him.
If only he weren't her sworn enemy.
Six angry girls van Adrienne Kisner
A story of mock trial, feminism, and the inherent power found in a pair of knitting needles.
Raina Petree is crushing her senior year, until her boyfriend dumps her, the drama club (basically) dumps her, the college of her dreams slips away, and her arch-nemesis triumphs.
Things aren't much better for Millie Goodwin. Her father treats her like a servant, and the all-boy Mock Trial team votes her out, even after she spent the last three years helping to build its success.
But then, an advice columnist unexpectedly helps Raina find new purpose in a pair of knitting needles and a politically active local yarn store. This leads to an unlikely meeting in the girls' bathroom, where Raina inspires Millie to start a rival team. The two join together and recruit four other angry girls to not only take on Mock Trial, but to smash the patriarchy in the process.
25 augustus
Now That I've Found You van Kristina Forest
A YA novel about searching for answers, love, and your eccentric grandma in all the wrong places.
Following in the footsteps of her überfamous grandma, eighteen-year-old Evie Jones is poised to be Hollywood's next big star. That is until a close friend's betrayal leads to her being blacklisted . . .
Fortunately, Evie knows just the thing to save her floundering career: a public appearance with America's most beloved actress—her grandma Gigi, aka the Evelyn Conaway. The only problem? Gigi is a recluse who's been out of the limelight for almost twenty years. Days before Evie plans to present her grandma with an honorary award in front of Hollywood's elite, Gigi does the unthinkable: she disappears.
With time running out and her comeback on the line, Evie reluctantly enlists the help of the last person to see Gigi before she vanished: Milo Williams, a cute musician Evie isn't sure she can trust. As Evie and Milo conduct a wild manhunt across New York City, romance and adventure abound while Evie makes some surprising discoveries about her grandma—and herself
27 augustus
Liefde van A tot Z van S.K Ali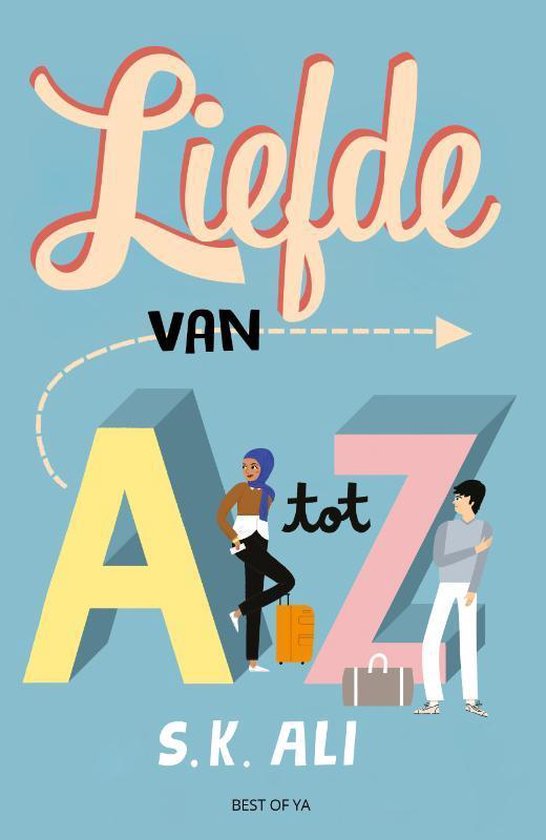 Zaynebs docent blijft zijn klas er maar aan herinneren hoe 'slecht' moslims zijn. Zayneb, de enige moslim in de klas, is niet slecht. Ze is kwaad. Als ze geschorst wordt omdat ze haar docent erop aanspreekt vertrekt Zayneb naar het huis van haar tante in Doha, Qatar. Ze voelt zich schuldig omdat ze ook haar vrienden in de problemen heeft gebracht en besluit dat ze een nieuwe, "aardige' versie van zichzelf zal zijn hier, waar niemand haar nog kent.
Adam is pas gediagnostiseerd met multiple sclerosis. Hij gaat niet meer naar school. Hij probeert de herinnering aan zijn moeder levend te houden voor zijn kleine zusje. Adam probeert ook om zijn diagnose geheim te houden voor zijn rouwende vader.
Allebei doen ze zich anders voor dan ze zijn, totdat er een wonder en iets onmogelijks gebeurt: Adam en Zayneb ontmoeten elkaar.
Toen ik de sterkste was van Jason Reynolds
Gaan jullie boeken kopen van deze lijst? Naar welke boeken kijken jullie uit? Laat het me weten in de reacties of op Instagram.