Het is bijna juni dus er komen weer veel nieuwe boeken uit. Hieronder vind je een lijst van contemporary boeken die uitkomen in juni.
1 juni
Reconnected van Catherine Tinker
Anne Ellison and Freddie Whitlock were best friends all through middle school, even though they never met in person. But when Anne did something unforgivable to Freddie, their friendship quickly fell apart.
Four years later, Freddie comes to Anne's town for the summer before she starts college. He's training to be an Olympic gymnast. Anne knows that Freddie is the boy from her past—but Freddie has no idea. As Anne and Freddie start to spend more time together, Anne can't help but fall for Freddie.
Can Anne find a way her way into Freddie's heart—while keeping her identity secret? Or will the lies she's telling tear their relationship apart?
2 juni
You Should See Me in a Crown van Leah Johnson
Liz Lighty has always believed she's too black, too poor, too awkward to shine in her small, rich, prom-obsessed midwestern town. But it's okay — Liz has a plan that will get her out of Campbell, Indiana, forever: attend the uber-elite Pennington College, play in their world-famous orchestra, and become a doctor.
But when the financial aid she was counting on unexpectedly falls through, Liz's plans come crashing down . . . until she's reminded of her school's scholarship for prom king and queen. There's nothing Liz wants to do less than endure a gauntlet of social media trolls, catty competitors, and humiliating public events, but despite her devastating fear of the spotlight she's willing to do whatever it takes to get to Pennington.
The only thing that makes it halfway bearable is the new girl in school, Mack. She's smart, funny, and just as much of an outsider as Liz. But Mack is also in the running for queen. Will falling for the competition keep Liz from her dreams . . . or make them come true?
If We Were Us van K.L Walther
Everyone at the prestigious Bexley School believes that Sage Morgan and Charlie Carmichael are meant to be….that it's just a matter of time until they realize that they are actually in love.

When Luke Morrissey shows up on the Bexley campus his presence immediately shakes things up. Charlie and Luke are drawn to each other the moment they meet, giving Sage the opportunity to steal away to spend time with Charlie's twin brother, Nick.

But Charlie is afraid of what others will think if he accepts that he has much more than a friendship with Luke. And Sage fears that things with Nick are getting too serious too quickly. The duo will need to rely on each other and their lifelong friendship to figure things out with the boys they love.
Conventionally Yours van Annabeth Albert
When two "big name fans" go head-to-head at a convention, love isn't the only thing at stake.

Charming, charismatic, and effortlessly popular, Conrad Stewart seems to have it all…but in reality, he's scrambling to keep his life from tumbling out of control.

Brilliant, guarded, and endlessly driven, Alden Roth may as well be the poster boy for perfection…but even he can't help but feel a little broken inside.

When these mortal enemies are stuck together on a cross-country road trip to the biggest fan convention of their lives, their infamous rivalry takes a backseat as an unexpected connection is forged. Yet each has a reason why they have to win the upcoming Odyssey gaming tournament and neither is willing to let emotion get in the way―even if it means giving up their one chance at something truly magical.
You Don't Live Here van Robyn Schneider
Robyn Schneider, author of The Beginning of Everything, delivers a witty and heartbreaking tale of first love, second beginnings, and last chances in this timely and authentic bisexual coming-of-age story, perfect for fans of Becky Albertalli and Adam Silvera.

In Southern California, no one lives more than thirty miles from the nearest fault line. Sasha Bloom is standing right on top of one when her world literally crumbles around her. With her mother now dead and father out of the picture, Sasha moves in with her estranged grandparents.

Living in her mom's old bedroom, Sasha has no idea who she is anymore. Luckily, her grandparents are certain they know who she should be: A lawyer in the making. Ten pounds skinnier. In a socially advantageous relationship with a boy from a good family—a boy like Cole Edwards.

And Cole has ideas for who Sasha should be, too. His plus one at lunch. His girlfriend. His.

Sasha tries to make everything work, but that means folding away her love of photography, her grief for her mother, and her growing interest in the magnificently clever Lily Chen. Sasha wants to follow Lily off the beaten path, to discover hidden beaches, secret menus, and the truth about dinosaur pee.

But being friends with Lily might lead somewhere new. Is Sasha willing to stop being the girl everyone expects and let the girl beneath the surface breath through?
Kissing Lessons van Sophie Jordan
A steamy contemporary YA romance by New York Times best-selling author Sophie Jordan about a girl with a bad reputation giving lessons on how to attract guys for some extra cash—only to fall for her client's golden-boy brother. For fans of Kami Garcia, Katie McGarry, and Netflix's Sex Education.

Wild, beautiful, and (as rumor has it) experienced, Hayden Vargas doesn't have time for love or relationships. She's learned the hard way that the only person you can count on is yourself, and she's hell-bent on earning enough money to leave her small, judgy Texas town as fast as possible. So when nerdy Emmaline Martin offers to pay Hayden for lessons in seduction, the money is so easy, there must be a catch. Enter the catch: Emmaline's older brother, popular, all-around nice guy™ Nolan Martin, who doesn't want his sister's reputation tarnished by the school's resident bad girl.

But Hayden should know that looks can be deceiving. Nolan may seem like a golden boy, but like Hayden, he has a few secrets of his own. And the more he meddles in her lessons with Emmaline, the more these polar opposites clash—and the more sparks fly. Turns out Nolan may have some lessons to teach Hayden, but only if she's willing to learn.
The Summer Deal van Jill Shalvis
5 juni
Bijna Echt van Lisa van Campenhout
Brenda weet hoe het is om onzichtbaar te zijn, geen vrienden te hebben en niet mee te tellen, en ze is het zat. Haar plan: zichzelf opnieuw uitvinden als ze gaat studeren in Amsterdam. Maar als dat plan meteen mislukt na een rampzalige introductieavond, moet ze iets anders verzinnen.

Twee dagen later is ze Aurélie uit Parijs: een rijke erfgename met een fantastische kledingsmaak, die in een sjiek hotel woont. Ze heeft vrienden, een indrukwekkend aantal Instagramvolgers en een jaloersmakende agenda… maar ook drie gestolen creditcards, het gevoel dat ze achtervolgd wordt en een aantal dreigende privéberichten in haar Instagram-inbox.

Haar web van leugens wordt steeds verstikkender, maar ze kan nu niet meer terug, toch?
9 juni
The Falling in Love Montage van Ciara Smyth
Saoirse doesn't believe in love at first sight or happy endings. If they were real, her mother would still be able to remember her name and not in a care home with early onset dementia. A condition that Saoirse may one day turn out to have inherited. So she's not looking for a relationship. She doesn't see the point in igniting any romantic sparks if she's bound to burn out.
But after a chance encounter at an end-of-term house party, Saoirse is about to break her own rules. For a girl with one blue freckle, an irresistible sense of mischief, and a passion for rom-coms.
Unbothered by Saoirse's no-relationships rulebook, Ruby proposes a loophole: They don't need true love to have one summer of fun, complete with every cliché, rom-com montage-worthy date they can dream up—and a binding agreement to end their romance come fall. It would be the perfect plan, if they weren't forgetting one thing about the Falling in Love Montage: when it's over, the characters actually fall in love… for real.
All the Things We Never Knew van Liara Tamani
"Tamani masterfully bounces and slams two hearts up and down a shrouded court of first love and revelations. A hard-to-put-down backboard-breaker."—Rita Williams-Garcia, National Book Award Finalist and New York Times–bestselling author
From the moment Carli and Rex first locked eyes on a Texas high school basketball court, they both knew it was destiny. But can you truly love someone else if you don't love yourself? Acclaimed author Liara Tamani's luminous second novel explores love, family, heartbreak, betrayal, and the power of healing, in gorgeous prose that will appeal to readers of Nicola Yoon and Jacqueline Woodson.
A glance was all it took. That kind of connection, the immediate and raw understanding of another person, just doesn't come along very often. And as rising stars on their Texas high schools' respective basketball teams, destined for bright futures in college and beyond, it seems like a match made in heaven. But Carli and Rex have secrets. As do their families.
Liara Tamani, the author of the acclaimed Calling My Name, follows two Black teenagers as they discover how first love, heartbreak, betrayal, and family can shape you—for better or for worse. A novel full of pain, joy, healing, and hope for fans of Elizabeth Acevedo, Jacqueline Woodson, and Jenny Han.
"A beautifully poignant love letter: to a first love, to basketball, and to that enigmatic bunch we think we know best, only to discover we don't know at all—family. Tamani's latest is a bright shining star."—David Arnold, New York Times–bestselling author of Mosquitoland
500 Miles from You van Jenny Colgan
The Marriage Game van Sarah Desai
The Boyfriend Project van Farrah Rochon
16 juli
You Say it First van Katie Cotugno (pre-order actie)
Meg has her entire life set up perfectly: her boyfriend Mason is sweet and supportive, she and her best friend Emily plan to head to Cornell together in the fall, and she even finds time to clock shifts phonebanking at a voter registration call center in her Philadelphia suburb. But everything changes when one of those calls connects her to a stranger from small-town Ohio, who gets under her skin from the moment he picks up the phone.
Colby is stuck in a rut, reeling from a family tragedy and working a dead-end job—unsure what his future holds, or if he even cares. The last thing he has time for is some privileged rich girl preaching the sanctity of the political process. So he says the worst thing he can think of and hangs up.
But things don't end there.…
That night on the phone winds up being the first in a series of candid, sometimes heated, always surprising conversations that lead to a long-distance friendship and then—slowly—to something more. Across state lines and phone lines, Meg and Colby form a once-in-a-lifetime connection. But in the end, are they just too different to make it work?
You Say It First is a propulsive, layered novel about how sometimes the person who has the least in common with us can be the one who changes us most.
I'll Be the One van Lyla Lee
The world of K-Pop has never met a star like this. Debut author Lyla Lee delivers a deliciously fun, thoughtful rom-com celebrating confidence and body positivity—perfect for fans of Jenny Han and Julie Murphy.

Skye Shin has heard it all. Fat girls shouldn't dance. Wear bright colors. Shouldn't call attention to themselves. But Skye dreams of joining the glittering world of K-Pop, and to do that, she's about to break all the rules that society, the media, and even her own mother, have set for girls like her.

She'll challenge thousands of other performers in an internationally televised competition looking for the next K-pop star, and she'll do it better than anyone else.

When Skye nails her audition, she's immediately swept into a whirlwind of countless practices, shocking performances, and the drama that comes with reality TV. What she doesn't count on are the highly fat-phobic beauty standards of the Korean pop entertainment industry, her sudden media fame and scrutiny, or the sparks that soon fly with her fellow competitor, Henry Cho.

But Skye has her sights on becoming the world's first plus-sized K-pop star, and that means winning the competition—without losing herself.
I Was Told It Would Get Easier van Abbi Waxman
17 juni
Liefde is voor losers van Wibke Brueggemann
Verliefdheid, dat is helemaal niks. Dat doe je jezelf toch niet aan? Maar Phoebe komt erachter dat het nou niet bepaald een keuze is in "Liefde is voor losers', een LGBTQ Young Adult-boek in de traditie van Bridget Jones.
De vijftienjarige Phoebe vindt dat liefde maar voor losers is. Ze gaat er niet aan beginnen. Tenminste, dat denkt ze. Totdat ze Emma ontmoet, die al haar plannen en theorieën in de war schopt. Vlijmscherp en hilarisch schrijft Phoebe haar kijk op het leven en wat haar overkomt op in haar dagboek. Ze is de volgende in een reeks sterke vrouwen als Bridget Jones en Georgia Nicholson, maar dan van nu.
23 juni
Cinder & Ella van Kelly Oram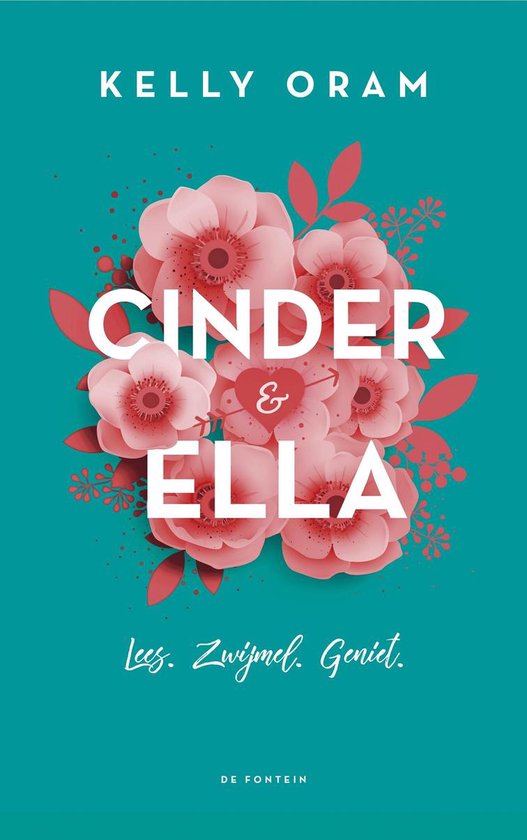 Als haar moeder verongelukt moet Ella bij haar vader en zijn nieuwe gezin wonen. Ella mist haar moeder en haar blogvriend Cinder. Wat ze niet weet is dat hij de hotste acteur van Hollywood is.
Cinder & Ella van Kelly Oram is een heerlijk verhaal om bij weg te dromen voor meiden vanaf 13 jaar en fans van De Royals-serie van Erin Watt. Lees. Zwijmel. Geniet!
Na maanden revalideren mag Ella eindelijk naar huis. Niet naar haar moeder, zij kwam om bij het auto-ongeluk, maar naar haar vader die ze nauwelijks kent. Hij woont in Hollywood met zijn nieuwe gezin, maar Ella's stiefzussen zitten niet op haar te wachten. Ella mist haar moeder en blogvriend Cinder. Sinds het ongeluk heeft ze niks van zich laten horen, maar stiekem droomt ze van hem. Wat ze niet weet is dat Cinder haar ook mist, én de hotste acteur van Hollywood is…
Cinder & Ella is een bestseller in Amerika en Duitsland, en het eerste deel van een tweeluik.
Head Over Heels van Hannah Orenstein
Take a Hint, Dani Brown van Talia Hibert
30 juni
Love, Creekwood van Becky Albertalli (pre-order actie)
Fall in love all over again with the characters from the bestselling Simonverse novels in this highly anticipated epilogue novella. Perfect for fans of Becky Albertalli, the movie Love, Simon, and the new Hulu series spin-off, Love, Victor!

It's been more than a year since Simon and Blue turned their anonymous online flirtation into an IRL relationship, and just a few months since Abby and Leah's unforgettable night at senior prom.

Now the Creekwood High crew are first years at different colleges, navigating friendship and romance the way their story began—on email.
In the Role of Brie Hutchens… van Nicole Melleby
Introducing Brie Hutchens: soap opera super fan, aspiring actor, and so-so student at her small Catholic school. Brie has big plans for eighth grade. She's going to be the star of the school play and convince her parents to let her go to the performing arts high school. But when Brie's mom walks in on her accidentally looking at some possibly inappropriate photos of her favorite actress, Brie panics and blurts out that she's been chosen to crown the Mary statue during her school's May Crowning ceremony. Brie's mom is distracted with pride—but Brie's in big trouble: she has not been chosen. No one has. Worse, Brie has almost no chance to get the job, which always goes to a top student.

Desperate to make her lie become truth, Brie turns to Kennedy, the girl everyone expects to crown Mary. But sometimes just looking at Kennedy gives Brie butterflies. Juggling her confusing feelings with the rapidly approaching May Crowning, not to mention her hilarious non-star turn in the school play, Brie navigates truth and lies, expectations and identity, and how to—finally—make her mother really see her as she is.
Gaan jullie boeken kopen van deze lijst? Naar welke boeken kijken jullie uit? Laat het me weten in de reacties of op Instagram.